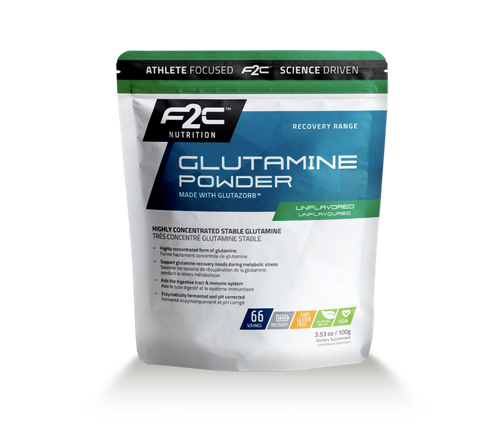 F2C Glutamine Powder™
$34.99
Absorbed upto 4X better than Free-Form Glutamine
- Highly concentrated form of glutamine
- Support glutamine recovery needs during metabolic stress
- Aids the digestive tract & immune system
- Enzymatically fermented and pH corrected
Glutamine is an important nutrient for muscle recovery and a healthy digestive tract.  During intense exercise and times of metabolic stress (injury, illness, dieting) the demand for plasma glutamine dramatically increases. Cells of the immune system such as lymphocytes and macrophages depend on glutamine as a primary fuel source and the enterocytes of the small intestines are the largest consumers, accounting for about 40-50% of all body glutamine consumption.
When stressed, it is difficult for the body to supply enough glutamine to all cellular areas, causing depleted glutamine reserves.  Supplementing with F2C Nutrition Glutamine by GlutaZorb will maintain plasma glutamine to support the immune and digestive systems and help to repair and build muscle.
What sets F2C Nutrition Glutamine by GlutaZorb apart from other glutamine brands?  Our vegan sourced glutamine is pH-corrected and uses an enzymatically-modified buffered fermentation process. Our scientists discovered that buffering glutamine molecules creates a more stable form of glutamine.
HOW TO USE
1, As a Dietary Supplement: Take 1 scoop (1.5 g) in the
morning and 1 scoop (1.5 g) in the evening mixed with
water. For best results, do not take within 20 minutes of
other protein sources.
 2. Post Race / Training: Take 1 scoop (1.5 g) immediately
upon completion with water or with 1-2 scoops of
Glyco-Durance. Wait 20 minutes before taking a protein
source.